Frequently Asked Questions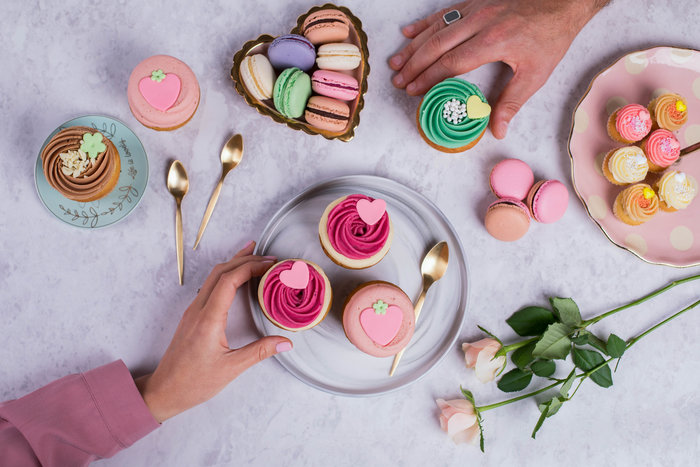 How do I make an order?
You can make an online reservation via the website. We do not accept orders via email or Whats-App.
How long in advance do I need to order?
We recommend booking at least two days in advance. There are days when you can order for the same day, but it depends on the amount of pre-orders that we might have. For cake orders, we must receive the order two days in advance. If you have  a large event, then it's best to book up to one week before so that we can do our best to accommodate you.
Can I make an order for the same day?
Yes, we can accept orders and send them on the same day. However, we recommend that you place your order at least one day earlier in order to ensure that there are no delays in your reservation. During special holidays such as Valentines or Rosh Hashana, we recommend that you place your orders in advance.
Can I add an edible image or writing to my cupcakes?
Yes. You can choose to add an "edible print" to cupcakes and also some cakes. The cupcakes packages that you can add an edible image to are all of the packages that are without a theme, such as "12 medium cupcakes love" for example.
Will my order look exactly like the image on the website?
All our products are handmade with care. Sometimes the products will be slightly different in design/ colour/ flavour than those that appear on our site, but the theme and look will be maintained.
Are you kosher?
Yes, our bakery is kosher dairy (halavi) and is under the supervision of the Tel Aviv Rabbinate.
Do the products contain milk from outside of Israel?
Most of our raw materials contain only milk from Israel. Some contain milk from outside of Israel. If this is important to you, you should contact us so we can help you with your order.
Do you have vegan or gluten-free products?
We have a gluten-free vegan cupcake with banana flavored and chocolate chips and chocolate frosting.. Although this product is made only from gluten free and vegan products, we do not recommend anyone to eat this product that may suffer from allergies. This is because the product is not made in a sterile environment from these allergens, and there may still be traces of gluten and dairy.
Do you deliver?
We deliver to Tel Aviv / Gush Dan area and part of the Sharon area.
How long will it take for my delivery to arrive?
Our delivery times are from 10:00 am to 20:00 pm and are coordinated within three-hour windows. Delivery coordination is made on the day of delivery with the order recipient. On rainy days, delays can be expected.
I've changed my mind and I want to cancel my order. Can I get my money back?
All of our cupcake cases are custom-made only. If your order is ready, we will not be able to refund payment.
Cancellation of an order must be made up to 24 hours from the time set for the delivery or collection from the store. For full cancellation policies, view our terms and conditions.
How long is the shelf life of the cupcakes?
Cupcakes are best eaten the day on the same day of purchase, however they can be consumed for up to 3 days if kept in the fridge.
Do the products contain peanuts / nuts?
Not all of our products contain nuts. However, we do not have any separate kitchen for produce to be made in a sterile environment from allergens. We cannot guarantee any of our products to be without nuts and peanuts or other allergens such as soy, gluten, milk and eggs.
Should the cupcakes and cakes be kept in the refrigerator?
They can be stored in a refrigerator in a closed box. Please remove them from the refrigerator for at least half an hour before eating. Our cupcakes and cakes should be eaten at room temperature.
Do your cupcakes and cakes contain eggs?
Most of our products do contain eggs. We only have products with cooked eggs, and we do not serve anything with raw eggs.
Do the cupcakes and cakes contain artificial food colouring?
We add food colors only to vanilla frosting and the red velvet cake. Some cupcake and cake decorations also contain artificial food colouring. Macarons and Cakepops contain artificial food colouring.
COVID: Do you deliver as normal during lockdown?
Yes we are delivering as normal during lockdown period. There may be occasional changes to time frames of delivery zones and we thank you for your patience and understanding if this occurs.
COVID: How far in advance do I need to order?
During the current period we advise customers to book in advance, especially if you would like to order for Thursday/Friday which tends to get booked up quicker. If you can; make your order up to at least two days in advance to ensure that we have your booking and you don't miss out.
COVID: What is the best way to make an order?
Via our website. It is the easiest and quickest way for you to make an order, plus you will get a confirmation email with all of your order details to your mail. If you have any questions about how to order online, the quickest way to get hold of us is by Instagram or Facebook message. We are not able to answer message over Shabbat or high holy days.